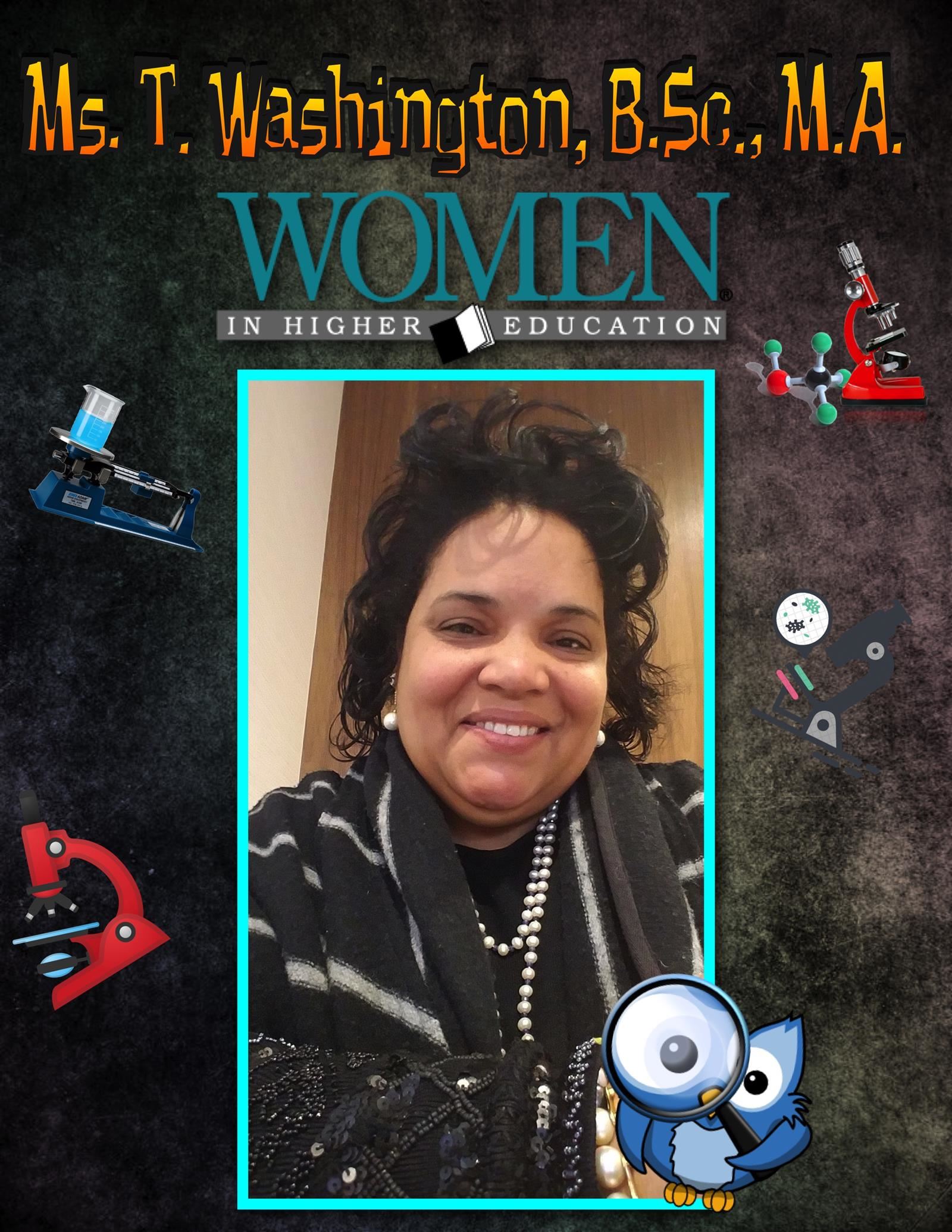 Phone:
Email:
Degrees and Certifications:
SCIENCE TEACHER

Welcome to my teacher page!

My name is Ms. T. Washington

I am one of the 7th & 8th grade

science teachers at A.B.G.S Middle School.

I will be working with your child to help them reach their academic goals.

HOW TO CONTACT ME: You can contact me via email at Twashington@hempsteadschools.org. You may also call and/or leave a message on TEAMS when I am scheduled for virtual activities.
Please scroll to the very bottom for RESOURCE info & links inside of Ms. T. Washington's Bitmoji classroom!
Goals for the Courses:
To develop and use scientific inquiry to pose questions, seek answers, and develop solutions.
To understand and apply scientific concepts, principles, and theories pertaining to science.
To stimulate the minds of students and create a hands on approach to learning of science.
To develop problem solving skills.
To develop computer skills, public speaking, and debate on topics we are covering and beyond.
Classroom Expectations



1.

Never settle for less than your best. Always give your best effort. Take pride in all you do.

2.

Be prepared to learn.


3.

Take responsibility for your actions.




4.

Be respectful of others. Treat others the way you want to be treated.
Behavioral Expectations:
The rules of the class are basic, and will be strictly enforced:
. Raise your hand when you wish to speak.
Speak only when instructed

to do so.

Work diligently and efficiently.
No cellphone use in the

class

unless instructed.
All work is to be done independently, unless students are instructed to do

otherwise.

Students must be in their seat when the period

has begun.

Trash is to remain at your

seat

until

the end of class.
The lavatory should be used

during lunch

, however passes will be issued for

emer

gency.
Do not pack up or leave the class until dismissed.
I am looking forward to an amazing school year full of lots of science exploration! For example:
As a living thing, we share a common bond with millions of other known organisms. What makes us and other life forms alike or different? What life activities do we carry out?
My College background:
I studied as an undergraduate & graduate at:
SUNY Stony Brook. After graduating I furthered my education at Suzhou University of Science and Technology. It is part of Soochow University, located in an ancient town that is referred to locally as 'Paradise on Earth', in China's Jiangsu Province. The School of Humanities, School of Textile and Clothing Engineering. School of Chemistry, Chemical Engineering and Materials Science, and School of Medicine are also the university's most visibly distinguished schools.
Studying abroad in another country allowed me to experience a brand-new country with incredible new outlooks, customs and activities. The benefits of studying abroad included the opportunity for me to to see new terrains as a science teacher. I was also able to observe some outstanding natural wonders, foods and landmarks.
THIS IS WHY I ABSOLUTELY ENJOY ORGANIZING SCIENCE FIELD TRIPS! I WISH FOR STUDENTS TO EXPERIENCE THE BENEFITS OF TRAVELING AND EXPLORING. GREAT SCIENCE CLASS TRIPS WE HAVE TAKEN IN THE PAST ARE BELOW:
Stony Brook Engineering Teaching Lab:

Design & Create Activities for students
Hofstra Lab:

Design & Create Activities students love
DISNEY, PHYSICS DAY AT ADVENTURELAND, WINGS AIR & SPACE MUSEUM,
PLANETERIUM, SEAL WATCHING, WHALE WATCHING, HOWES CAVERNS & HERSHEY PARK.