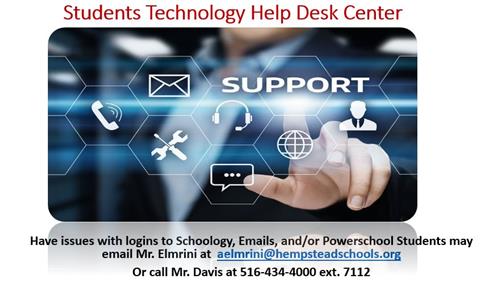 Heading
Student/Parent Resources and Announcements
Ordering your cap and gown
Click on the following link
https://herffjonesny.wufoo.com/forms/hempstead-high-school/

Click here for more information.

Attention Juniors, Seniors , Sophomores and Freshmen! Don't miss this chance to explore colleges virtually from your mobile devices Click here to get info on upcoming tours!
Student Access Learning Videos. Extra Help Here.
The Place for teacher news and resources
Staff Directory
Principal | Director: (516) 434-4201

---

Assistant Principal

Directora Asistente:

Olga Brown-Young (516) 434-4208

---

Assistant Principal
Directora Asistente:

Lisaura Moreno (516) 434-4204

---

Assistant Principal
Directora Asistente:

Iris Tamayo (516) 434-4299

---

Assistant Principal
Directora Asistente:

Sionery Villar (516) 434-4205

---

Dean of Students/

Decano

de

Estudiantes:
O'Neil Glenn (516) 434-4233


---

Dean of Students/

Decano

de

Estudiantes:
Natalia Reyes (516) 434-4207


---

Technology:
Aziz Elmrini (516) 434-4249

Directions to Hempstead High School