Optimum, Disney Channel and Save the Children Gives Back to Students
ALTICE GIVES BACK TO DAVID PATERSON STUDENTS
On Friday, November 5, 2021, Altice arrived at David Paterson IB World school to donate back bags and school supplies. Students were surprised and excited to receive the book bags filled with a notebook, coloring tools, pencil case, water bottle and wipes.
Classes were called out and walked in a single line to the table that was set up in the back. As they were each handed a bag of supplies, they continued to say thank you with a masked smile. Some were able to take pictures in front of the truck carrying all the supplies that were delivered.
As one student stated, "This is amazing!" Another stated, "When my school gets something, I feel joyful and happy. When people give something to us, I feel it's our duty to give back to them."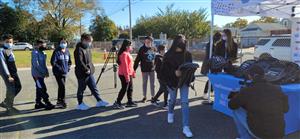 Altice retribuye a los estudiantes
El viernes 5 de noviembre de 2021, Altice llegó al Colegio David Paterson IB World para donar bolsas y útiles escolares. Los estudiantes se sorprendieron y emocionaron al recibir las bolsas de libros llenas de un cuaderno, herramientas para colorear, estuche para lápices, botella de agua y toallitas.
Las clases fueron convocadas y caminaron en una sola línea hasta la mesa que estaba configurada en la parte posterior. Mientras a cada uno de ellos se les entregaba una bolsa de suministros, continuaron diciendo gracias con una sonrisa enmascarada. Algunos pudieron tomar fotos frente al camión que transportaba todos los suministros que se entregaron.
Como dijo un estudiante: "¡Esto es increíble!" Otro declaró: "Cuando mi escuela recibe algo, me siento alegre y feliz. Cuando la gente nos da algo, siento que es nuestro deber retribuirles".
Here is a clip on channel 11: https://pix11.com/news/local-news/long-island/school-supply-donation-puts-long-island-students-on-path-to-success/
Here is a clip on channel 12: https://longisland.news12.com/students-at-hempstead-school-receive-donated-school-supplies-and-backpacks